The market trends is driven by the increasing prevalence of diabetes, the high incidence of obesity, and the increasing number of surgical procedures across the globe. In line with this, the major trend in this market is the acquisition of small players by prominent players.
Players operating in the market are altering their long-term and short-term growth strategies by tapping the research market and developing innovative products to combat the pandemic. Even though the impact of COVID-19 on the advanced wound care market is moderate compared to other medical device markets, the timely development and implementation of contingency plans are critical for business operations and key imported raw materials.
With an increase in the prevalence of chronic diseases and growth in surgical procedures, the incidence of associated surgical wounds and infections has increased. This will increase the demand for advanced wound care products and debridement procedures, along with advanced techniques like NPWT.
For More Info, Download PDF Brochure @ https://www.marketsandmarkets.com/pdfdownloadNew.asp?id=88705076
Advanced wound care products such as honey wound dressings are loaded with antimicrobial agents and have emerged as viable options to reduce wound bacterial colonization and infection to improve the healing process. The overall uptake of different advanced wound care products during/after surgical procedures are increasing due to the proven benefits of these products and the growing awareness about their effectiveness.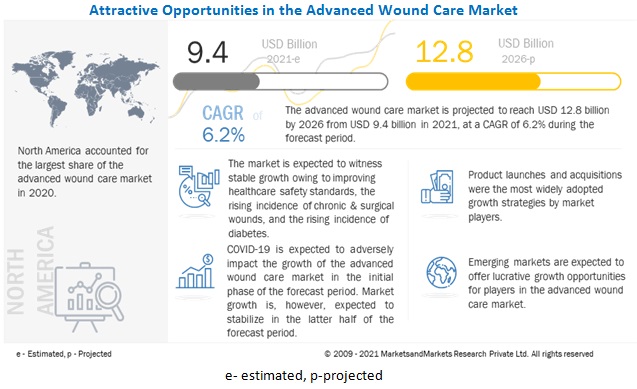 The high cost of chronic wound treatments and advanced wound care products may negatively affect their adoption, especially in cost-sensitive markets such as Asia and the RoW. Patients and physicians in these regions opt for less-expensive advanced wound care products.
Research in advanced wound care products such as advanced wound care dressings has resulted in the introduction of unique products capable of absorption, hydration, and antibacterial activities.
The advanced wound care market is segmented into dressings, devices & accessories, grafts & matrices, and topical agents based on products. The dressings segment accounted for the largest share of the market in 2020, mainly due to the growing patient awareness and the rising occurrence of HAIs.